The Highlands Loop
Attractions
OWL Rafting on the Ottawa River
40 Owl Lane
Forester Falls, Ontario
Latitude: 45.65984
Longitude: -76.72351
Phone: (613) 646-2263
Toll Free: 1-800-461-7238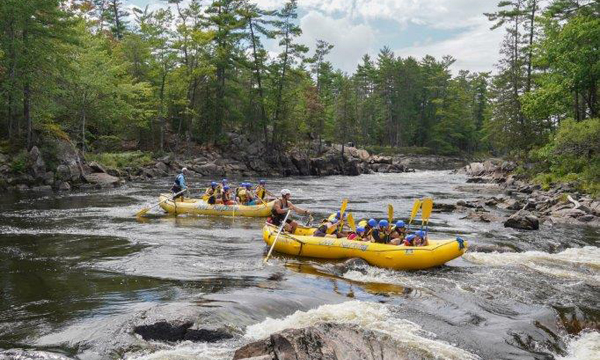 Unique in the world of whitewater rafting the OWL experience on the Ottawa River combines a full-day river descent of the world-renowned Rocher Fendu rapids with a pontoon meal cruise. Each ​rafting trip is met by our floating kitchen, where you'll transition from raft to pontoon boat for a freshly grilled meal as you return to our lakeside resort. Choose from low, medium to high-intensity rafting. Fully embrace nature by choosing a multi-day package staying at our wilderness resort in your own tent or upgrade to a cabin, on-suite cabana or our newest accommodation overlooking the water, a glamping tent.
OWL provides a 10% discount for riders for rafting! Reservations in advance are required, call to book.
Check out OWL Rafting's
Waterfront Café
for a bite to eat and a break on their waterfront patio.
2023 Season:
May 20 - September 10